In 9 days time I am attending a wedding! The wedding is the H2Bs Aunts second wedding. The venue is a hotel near by which is very popular for weddings within the local area. My aunt got married at the hotel 12 year ago, although I don't remember much about the venue except my parents complaining about how expensive the drinks at the bar were.
I'm very excited about attending as I am a sucker for a good wedding. As most girls do I've bought myself a new dress from Phase Eight. It can be hard to choose the right outfit, and everyone has a different style, but I follow a few simple rules to make choosing an outfit a lot easier:
Do not wear a white dress
Do not wear a black dress (unless the colour theme has black in it or unless you are attending the evening only)
If you know the colour the bridesmaids are wearing, do not wear the same colour (as block colour)
Ensure your outfit is not too revealing
Following my rules I found my Phase Eight dress. I do not know the colour theme of the wedding as the invites gave no indication, but as the dress is patterned I don't have to worry. I will be teaming the dress with grey sandals and a grey/sparkly clutch.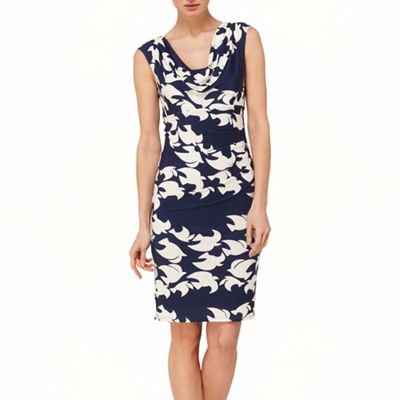 In 2010 I attended my first wedding as an adult where I wore a knee length red dress then last year I attended three weddings – what a great year that was! 😀 The first wedding was a church ceremony in May, the H2B and I strangely enough attended the ceremony only. The other two weddings were both in August, but as one was the H2Bs family and the other a school friend of mine I decided to wear the same dress to both of the weddings in August. For the May wedding I wore a knee length pattered cream, black and orange dress and for the two in August I wore a plain navy blue knee length dress. I teamed the navy dress with a cream shrug, pink shoes and a pink clutch.

I got a lot of compliments on the above dress – even from the Vicar of all people! I may go safe when it comes to the dresses I choose for attending as a guest, but the dresses are always well received from other people and I've never had to worry about an embarrassing wardrobe malfunction being caught by the photographer.
After the wedding – in 9 days!!!! – I will post all about it. Watch this space for the wedding review.